WORLD OF iSQI
Welcome to the world of iSQI. Explore the real stories behind one of the most successful certifiers in software testing and IT. Take a look around and get in touch!
Are you a training provider?
We offer internationally recognised certifications under the global iSQI brand. Working with iSQI gives you the opportunity to develop new markets and a "one stop shop" across the world for your certification services.
The iSQI Group, with offices in Potsdam (Germany), Amsterdam (The Netherlands), Reading (UK) and Boston (USA), is a leading provider of certification examinations all over the world. For 15 years now, iSQI plays a significant role in certifying the know-how of IT professionals in over 100 countries on 6 continents in 10 languages. With over 30,000 certifications per year, iSQI paves the way for successful career development.
iSQI examinations are supported by a global network of accredited training providers. Their expertise in education assists professionals in improving their knowledge and skills for the certification exam. iSQI fosters experience changes and business development as well as advancements in software quality engineering. iSQI dedicates to the success of partners and clients. The company has three main roles as a certification body: knowledge auditor, knowledge editor, and knowledge mediator.
We at iSQI are a dynamic and international team working around the world. At our four locations in Potsdam (Germany), Amsterdam (Netherlands), London (UK) and Boston (USA) we are always there for you. We love what we do and have made it our highest goal to support you on your way to professional success.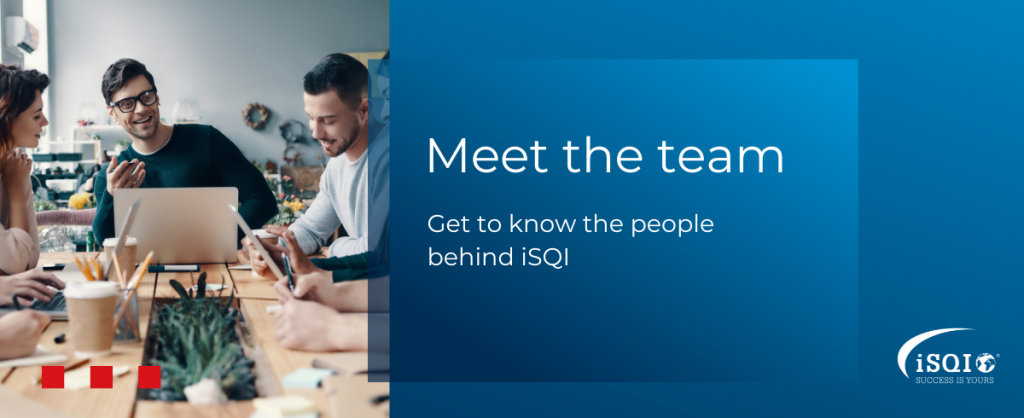 At iSQI we believe that we can only be as successful as our customers and partners are, so we make it our priority to be at your service. If you have any questions, please feel free to contact us at any time.
A certificate from iSQI is your ticket to a successful career in the IT sector. It not only shows that you have a high level of knowledge in your specialist field, but also your motivation to develop professionally and personally. With an iSQI certification, you have internationally recognized proof of your knowledge in diverse areas of IT and project management, enabling you to pursue your successful career path.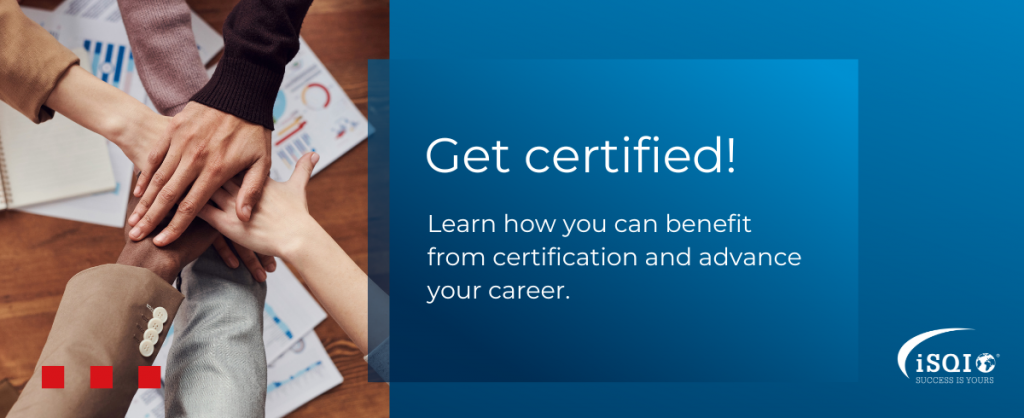 Our certifications meet the highest requirements for standardization and quality assurance.
Our certifications are based on syllabuses and guidelines, laid down by independent experts. We cooperate with qualifications boards around the world. Certification creates security for professionals and businesses alike. Our certificates provide the guidance businesses look for to gain a better understanding of the qualifications of professionals in a non-regulated industry.
4. Sustainability at iSQI
iSQI only works with suppliers which also add importance to the responsible use of natural resources. Wherever there is an opportunity to act and operate sustainably, iSQI is there.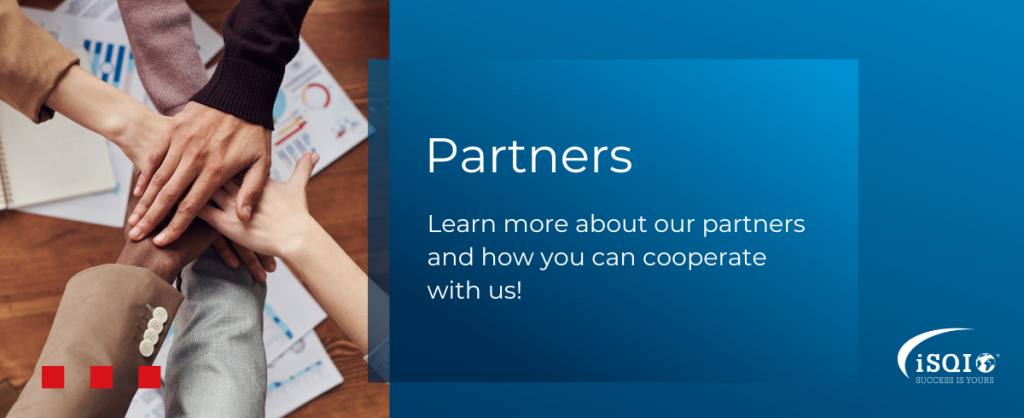 Partners around the world rely on iSQI to deliver exams. We offer you and your customers maximum flexibility with paper, online or test centre (Pearson Vue) options. Our international network of invigilators are all fully trained. We monitor exam performance and ensure exam security. iSQI is the partner of choice by leading training providers and test owners.
Life's too short to have the wrong job… find your right one at iSQI!
We're always looking for commited talent to enrich our teams in Germany, The Netherlands, UK or in the US. Do you have the personality and skills we are looking for?
Our team consists of open-minded people from various countries who want to make a difference. If you want to become part of it, please apply to talents@isqi.org.
We're looking forward to meeting you!
What makes working for iSQI special?
"iSQI is a vibrant and creative company to work for, with great culture that encourages you to get involved and learn more about the company."
"You are always guaranteed a warm welcome at any office you visit!"
"Working virtually and in cross-functional teams ensures iSQI employees around the world feel part of the iSQI family."
Journalists can find all relevant information about the iSQI Group on our press page. The latest press releases, images and infographics can be downloaded here.
What's new in the world of IT and software quality? In our iSQI blog you will find exciting articles, reports and interviews on the latest news in the industry. Get inspired and take a look at our topics!
Subscribe to our newsletter!
Private webinars, exclusive syllabus, mock exams and answers, especially weekly FLASH SALES. Let iSQI support you for your upcoming exam / certification.